New Stuff
This is an update history of the Museum. Check here to see if there's anything new since your last visit!
---
10/23/07
Matt Green sent me a cleaned up version of the Ms. Pac-Man Project. See the Ms. Pac-Man Page for the link.
01/29/07
CHVGM is eleven years old.
12/12/06
CHVGM is the #1 Google result for "home video games."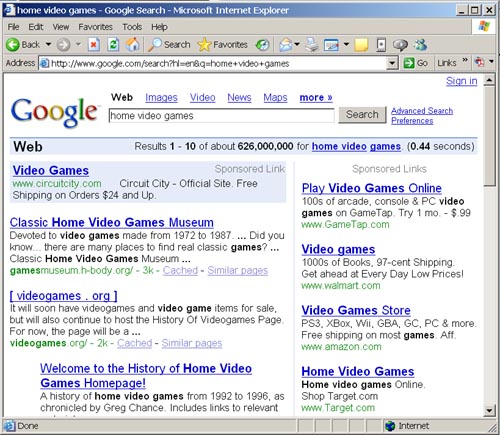 11/01/2006
Check out my PC-based arcade cabinet project.
01/14/06
CHVGM is now years old! Around the time I set up the site, there was actually a big debate in the classic gaming community whether or not the NES and SMS were "classic" yet. Of course, today, they're ancient history, and people are probably wondering why the SNES, Genesis, 3DO, Jaguar, etc, aren't on this site... I'll stick to my own definition of "classic." It's easier that way.
01/03/05
I fixed the link to the diagrams in the HTML version of the Ms. Pac-Man Project. Oops!

P.S. CHVGM is now NINE years old!
01/31/04
CHVGM is EIGHT years old!!!! It has a new home on my car information website, h-body.org. And no, it hasn't really been updated since late 1998, but I plan to make the interactive stuff work again now that I've escaped the clutches of Tripod! This site started out in 1996 on my Rice U account (partially hosted on my machine in my dorm room). At graduation, it then moved to the webserver of APM Technologies, with their permission, where I worked during school breaks. Its next home was at UNC where I was in grad school, and then moved to Tripod after I graduated. Finally, it's here.
04/20/2001
Check out my PC arcade-style joystick project.
12/22/99
CHVGM has a new home for now. Fourth birthday coming up... man, I really need to update this stuff!
01/05/99
Hey, CHVGM is three years old! And I only had two updates for the entire year of 1998! That's what happens when you leave school and get a J-O-B.
09/14/98
I put a map to the extra level of Pitfall II in the Library. I drew the map after finally beating the level a few months ago, and just now scanned it in. The extra level is in the Atari 5200 and possibly the Atari 8-bit versions (look for "Adventurer's Edition" on startup). It's NOT in the Atari 2600, Colecovision, Commodore 64, or IBM PCjr versions. It's definitely worth getting a 5200 if you're a Pitfall II fan.
01/22/98
The Museum moved to a new server and I updated the look. I will be adding more stuff as I get a chance. I've already put back "Guess the System!" so try it out!
08/12/97
UPDATED information about how to win at Ms. Pac-Man to the Ms. Pac-Man page, kindly provided by Don Williams.

Added a few new pictures sent by users to the Microvision and Pong pages.
07/13/97
Added information about how to win at Ms. Pac-Man, provided by one of the original authors, to the Ms. Pac-Man page.
04/07/97
Added some pictures to Pong and Odyssey2 sections.
01/14/97
I added a file to the Odyssey2 section about the Odyssey2 in Brazil sent by a site user.

NOTE: I appreciate getting mail like this. If you have any contributions (pictures, text files, stories, etc) you would like posted, feel free to mail them to me! Thanks.
01/02/97
The Museum is a year old! Thanks to all visitors and wonderful comments, suggestions, etc., and special thanks to those who made links to it!
10/28/96
I finally added a couple of new nostalgia entries.
Grad school is still hard.
09/25/96
I now have (links to) cartridge lists for each system, thanks to Dean Dierschow (dean@xocolatl.com). He has lists for most classic consoles and computers at http://www.xocolatl.com/carts/.
09/20/96
Grad school is hard.
I finally made some time to update a few things (added a new nostalgia story, the latest XEGS cart list, and a Nintendo article--thanks those who submitted or posted to the newsgroup rec.games.video.classic).
08/27/96
Problem with pictures solved.
Emerson Arcadia 2001 section added to 2nd generation.
08/22/96
I now have stuff for auction here.
08/16/96
I've started graduate school at UNC, so the Museum has a new home. Set your links and bookmarks to the new address! Thanks for all of the support. Maybe I'll finally have a chance to update some of this stuff!

Note that some links are stale (mainly the mailto: links and links to "hellspawn.baker.rice.edu" which no longer exists). I'll be fixing these as I get time.
05/08/96
Well, everyone, I'm graduating from Rice and leaving in a couple of days. Most of the Museum will remain on-line here at Rice over the summer until I find a home for it at graduate school.

However, the screenshots, Guess the System, the scribble file interface, and some other misc. files are stored on my personal computer in my dorm room. When I leave, so does my computer. So, those parts of the Museum will be gone for at least the summer. I don't have the space in my account at Rice for those files, plus, Rice's security policy prevents me from having CGI files on their server (that's why they're all on my PC).

Sorry about the lack of new games for the "Game of the Week" but I've had to deal with finals, finding summer living arrangements, visiting graduate schools, and trying to have a little fun here during my senior year.
04/25/96
The new counter was unreliable, so I have a counter from WebCounter now. Using the same logic as in the last change, I guessed the count would have been at 9250 had the counter been working.
04/15/96
Rice's wonderful (ahem) web page counter died while I was away, so I found a new one. I set the initial count at 8000, which is a decent estimate (the last time I saw the count it was 7500, and with 5 days with the counter down at an average of 100 hits a day, 8000 seemed reasonable).
04/04/96
Compressed all of the .jpg screenshots from about 50k each to about 8k each. This should keep loading times (even for Guess the System with 10 images) within a reasonable amount of time for dial-up users.
04/03/96
Added dealers listing under Classics Preservation.
04/01/96
Added the story "The Atari Quest" from the January 1996 Ultimate Gamer to the Library.
03/29/96
More slight updates to most History pages and Library page.
Added lists of pictures to each system's page so reader don't need to wade through the text for them. Because of this, the redundant links on the Library page were removed.
03/19/96
Slight updates to most History pages and Library page.
Wrote document about using ROM images with the 2600 emulator (see Library or Emulators page).
03/18/96
Slight reorganization of the Museum.
Reduced load time on main screen.
03/17/96
Moved many of the pictures added on 3/13 to their appropriate places.

03/13/96
Added many pictures in "Texts and Pictures" section.
03/11/96
Added a picture of my Microvision to the appropriate places.

03/10/96
Finally made a new Game of the Week entry.
02/26/96
Separated "Emulators" and "Remakes"; will create new opening-screen graphics when I get around to it. [done]
02/19/96
Added Game of the Week section. This may end up being "Game of the Two Weeks" but that title really sucks.
Added System Palette to give more direct access to the system pages.
Went oval-crazy on the opening screen.
Moved all of the "CHVM interactive" stuff to the main screen. "CHVM interactive" is dead (the concept, not the server!).
02/18/96
Changed all of those pictures that have ugly blue backgrounds when the brower doesn't support transparency.
Added drop shadows to a lot of pictures for fun.
02/13/96
I'm starting to play around with Photoshop to create buttons, pictures, titles, etc. If something looks ugly, let me know!
02/06/96
Reorganized "Texts and Pictures" page.
Added links to the more interesting pictures in the History section to the "Texts and Pictures" page.
02/04/96
Added "Scribble Board" to CHVM interactive
02/01/96
Added "Emulators and Remakes" section--find classics for your computer!
01/29/96
CHVM interactive is back up after a short downtime.
01/22/96
Added new system pictures to "Texts and Pictures."
Added links to texts in history section to "Texts and Pictures."
Designed (slightly) new graphics.

01/21/96
Short FAQ for Guess the System! was added to CHVM interactive

01/18/96
Guess the System! was added to CHVM interactive

01/16/96
CHVM interactive went online; only screenshots at this time

01/02/96
Classic Home Video Games Museum went online

---
---
Dennis Brown, dgbrown (at) pixesthesia (dot) com, creator and maintainer. E-Mail me with corrections and additions. All contents copyright 2006, Dennis Brown. All trademarks are properties of their respective companies.